Green Data Centers in Luxembourg
Besides providing top-notch data centers, Luxembourg also provides Green data centers. By using innovative and creative solutions, data center providers in the Grand Duchy are able to host your data in eco-friendly facilities!
LUXCONNECT AND THE TECHNOLOGY OPTIMIZATION
Over the past 10 years, LuxConnect has built 4 data centers and has a total net IT space of 14,700 m². As a data center is a big energy consumer, LuxConnect engineers are very concerned about the impact on the environment and are constantly on the lookout for new technologies to make the best use of energy.
What green solutions is using LuxConnect?
green energy, coming from hydroelectric dams in Norway;
free cooling (used exclusively when outside temperatures drop below 10°C). This technology does not require the additional supply of cooling water for temperatures ranging from 10°C to 27°C, resulting in a low ecological impact;
lighting savings;
solar panels.
In its data center 2, located in Bissen, LuxConnect has also set up an innovative initiative: Kyowatt.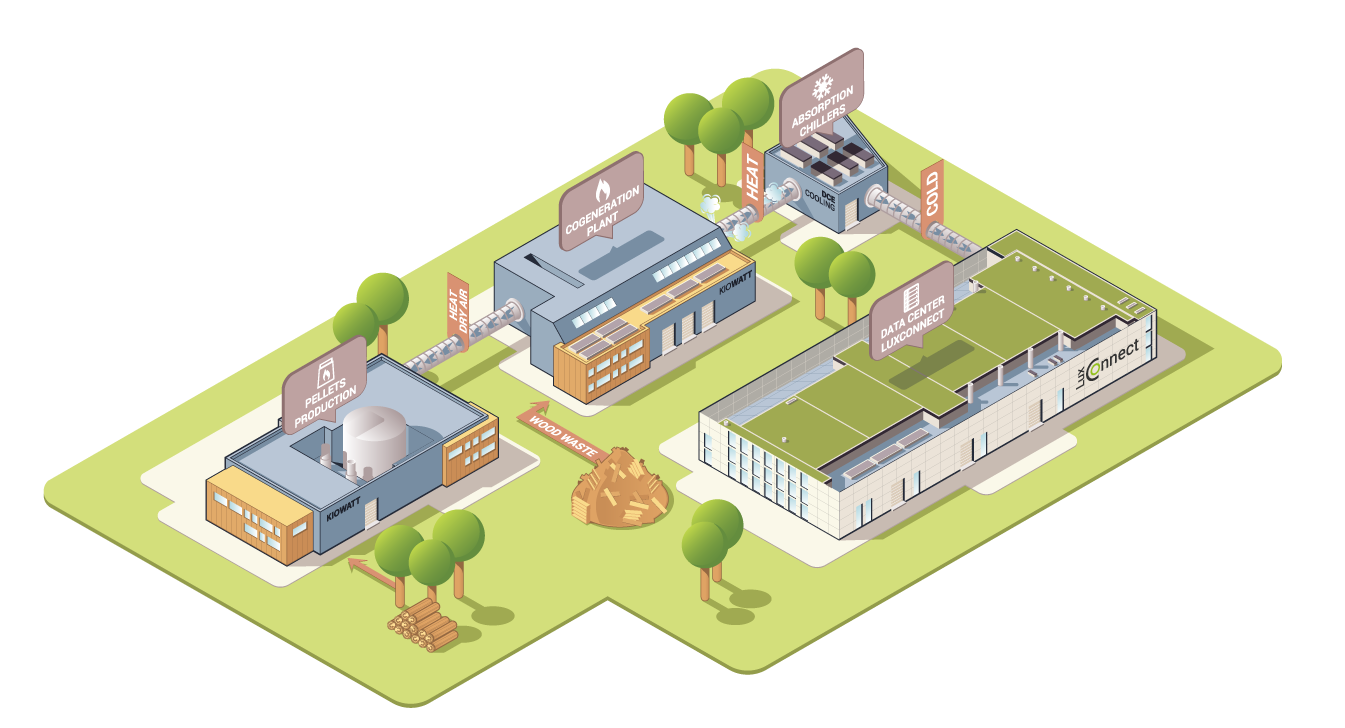 But how does this work?
The cogeneration plant is at the heart of the installation because, using wood waste, it simultaneously produces head and electrical energy. The electricity generated is injected into the public network and covers the needs of 6,000 households. The heat generated by the steam turbine normally released into the atmosphere is used for several purposes.
EBRC AND THE EARTH VALUES
EBRC operates hyper-secure and energy-efficient data centers that comply with its corporate values "EARTH" (Excellence, Agility, Responsibility, Trust, Human).
Since 2005, the company has been using certified renewable electricity, eight years ahead of Apple. This decision was combined with an open innovation approach in the design and operation of data centers to make them more powerful and always more environment-friendly.
EBRC has also other multiple green initiatives:
Rainwater harvesting system;
100% green electrical power supply (wind or hydraulic);
Free chilling for air cooling,...
One of the biggest energy optimization by EBRC is the use of the Kyoto wheels for air conditioning.
Find out MORE ABOUT LUXEMBOURG Data Centers!
Check out our Luxembourg Data Center list.