Why luxembourg for your data center in Europe?
LUXEMBOURG, RIGHT IN THE HEART OF EUROPE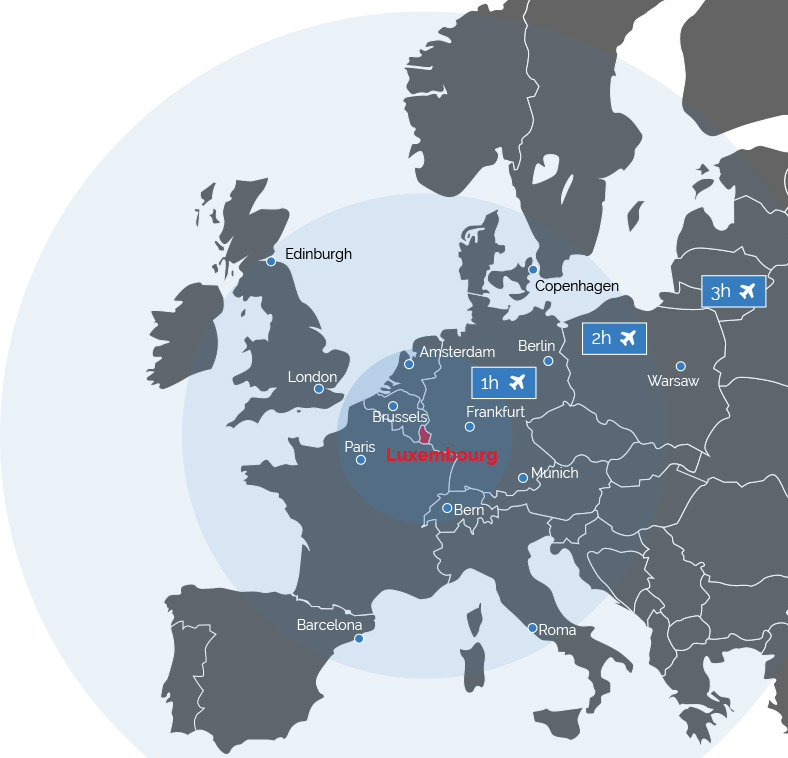 Situated in the heart of Europe, Luxembourg is the gateway to the European market (500 million consumers), providing international companies with a multitude of business opportunities.
Luxembourg's highly skilled workforce, solid infrastructure, business oriented legislation and multicultural environment make it a first-rate destination for companies and people.
Taking full advantage of this strategic location and of massive private and public sector investments, Luxembourg has become a key hub for ICT with highly secured data centers, connectivity & modern IT infrastructures, life sciences, clean technologies, IP and logistics all of which are attracting more and more major international companies to set up their business in Luxembourg. Among these are RTL Group, SES, Amazon, Rakuten, ArcelorMittal, Husky, Ampacet,… will you be the next?
Luxembourg is investing continuously in further developing its connectivity with state-of-the-art ICT infrastructure and telecommunication networks.
Highly secure public and private data centers have been set up to help businesses deploy and operate their systems.
Within a radius of 200km from Luxembourg, you can find 12 universities of the Greater Region, and through initiatives such as the Morpheus Cup, Luxembourg is working hard to attract the brightest ICT talents from universities across Europe.
HIGHLY EDUCATED, MULTILINGUAL AND INTERNATIONAL WORKFORCE
Luxembourg has always been a land of migration. Today, 46% of its residents are foreign citizens. In addition, around 160,000 people commute daily to Luxembourg.
The labor market offers a pool of talented and multilingual employees from Luxembourg as well as from France, Germany and Belgium.
Luxembourg has the highest share of high-skilled workers in the World (World Economic Forum & International Labour Office – 2015).  Additionally, Luxembourg is ranked 6th out of 61 countries in the 2015 edition of the World Competitiveness Yearbook (source: IMD).
The financial workplace accounts for 17% (65,000 people) of total employment, with 23% Luxembourgish employees and 77% foreign residents and French, German and Belgian residents who commute across the borders (source : CES).
Moreover, Luxembourg's unemployment rate remains one of the lowest in the European Union (5,9% in 2014 according to Eurostat Publications' "Key Figures 2014 and European Economic Forecast Spring 2015″).
ICT, A KEY BUSINESS SECTOR
Digital Luxembourg, founded in 2014, is a multidisciplinary government initiative working with public, private & academic players to harness digitalization for positive transformation.
To achieve this, it approaches digitalization holistically, focusing on strengthening & future-proofing five key areas: skills, policy, infrastructure, ecosystem & government.
With the full support of the Luxembourgish government & informed by its digitalization strategy, Digital Luxembourg enables new projects, supports existing ones & boosts the visibility of nationwide efforts.
To access their catalogue initiatives & a comprehensive overview of Digital Luxembourg, visit: www.digital-luxembourg.public.lu
Need help solving a data centers related problem?
Well, that's what we do!
Leave us your email and we will contact you to explore the solutions and put you in touch with the right professionals for your needs.