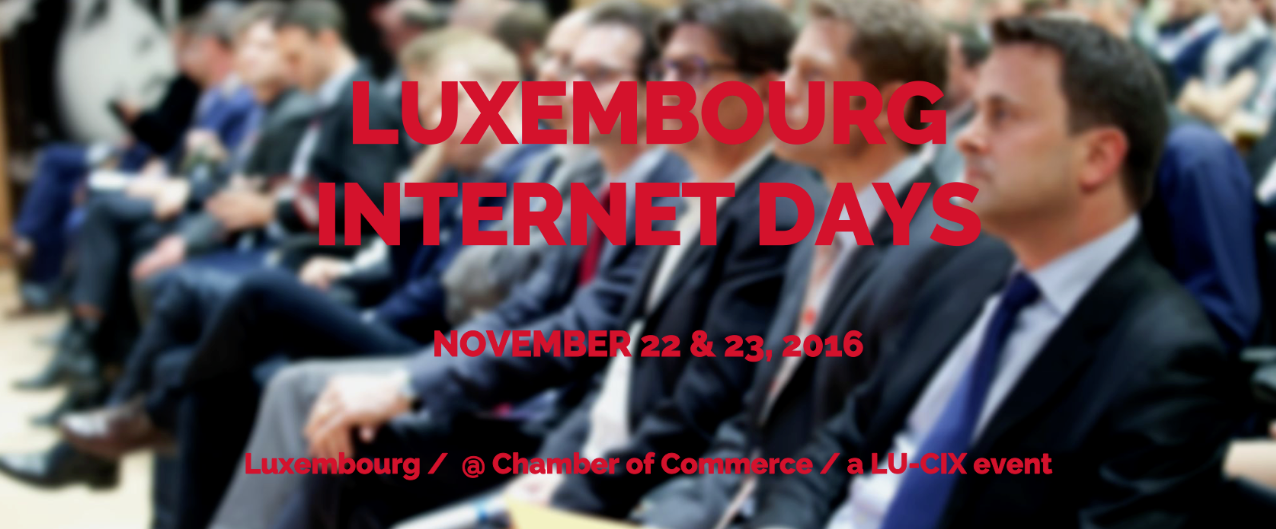 LU-CIX has great pleasure in sharing an update on the 2016 edition of its 2-day conference "The Luxembourg Internet Days", which will take place at the Luxembourg Chamber of Commerce on November 22 & 23 this year. Along with Luxembourg Prime Minister, Xavier BETTEL, some of the most influential ICT specialists and entrepreneurs from 9 countries on both sides of the Atlantic will come together to bring clarity to two of the hottest topics of the year in the ICT arena, namely the Internet of Things (IoT) and Blockchain. In addition to the conference itself will be an associated exhibition with many key companies implicated as well as a parallel series of workshops aimed particularly at start-up companies in the field.
Last year the Luxembourg Internet Days saw an attendance of over 800 industry professionals, with 88% saying that they would return in 2016. Representatives of over 350 companies will be joining the event, of which 30% are from outside the Grand Duchy. This year LU-CIX aims to improve that satisfaction rating even further by providing more content, more interactive round table sessions and more networking opportunities than ever before.
For its first day, Tuesday 22 November, the conference will concentrate on IoT. The opening keynote will be delivered by Candi CARRERA, Microsoft Country Manager for Luxembourg and the day will concentrate on examining some of the trending topics in the IoT from alternative perspectives. How much impact will IoT have on IT infrastructures, security rules, innovation & regulation, etc.?
The Luxembourg Minister for Labour, Employment, Social Economy and Economic Solidarity, Nicolas SCHMIT, will not only give a presentation but will also participate to a panel discussion underlining the importance of human skills as a key aspect of the 3rd industrial revolution for Luxembourg. Among the expert speakers is Éireann LEVERETT, Senior Risk Researcher at Cambridge centre for Risk Studies and founder and CEO of Concinnity Risks.
Wednesday 23 November opens at 10:00am with a not to be missed keynote from Prime Minister Xavier BETTEL, and is followed by a day concentrating on the non-monetary, technical, ethical & legal aspects of Blockchain.
There will be a "meet & greet" with the Prime Minister and other panellists as well as presentations from John McLEAN, VP Global Blockchain Labs engagement at IBM and Joe LUBIN, founder of Consensys among others. The Austrian Government CIO Reinhard POSCH will give feedbacks on the experimentation of Blockchain capabilities at a State level. The participants will be able to debate on the Promises of Blockchain, will it drive to more Transparency or to an All-Encompassing Artificial Intelligence?
In parallel to the conference the "Start-up Forum" powered by Luxinnovation for budding entrepreneurs and inspired individuals, will feature workshops, lectures and exchanges that will help them turn their ideas and concepts into concrete business opportunities.
Access to the two-day conference itself is with free online pre-registration, and for those who want to profit from further enhanced networking opportunities, Tuesday night (22nd) will also feature the "Sunset Eve" (a paying evening event), that will provide an offsite and informal opportunity to mingle with keynote speakers and panellists as well as with fellow industry professionals.
During the conference LU-CIX itself will be announcing exciting new co-operations and the launch of "LUCIX 3.0" which aims to build on last year's LU-CIX 2.0 (which concentrated on the technical and organisational sides) by expanding the promotional side of the data center sector through datacenters-ineurope.com and events in other countries under the slogan "The Winning Future!".
In summary, visitors of the Luxembourg Internet Days can expect
- Sector expert keynotes,
- Panel discussions,
- Business case presentations,
- Business speed-dating,
- Exhibition,
- Numerous networking opportunities,
- Sunset Eve,
- 5 chances to win a test-drive day with a TESLA,
- etc.
To know what Xavier BETTEL, Nicolas SCHMIT and the other industry experts are preparing for you, join the Luxembourg Internet Days; for further information, please contact event@lu-cix.lu or register at
http://lucix.digifactory.fr/registration/register